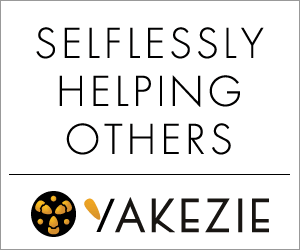 Welcome to this week's Yakezie Carnival. This week I as your host have chosen the theme of "Growth" and here is why. The original Yakezie Carnival was first hosted on February 28, 2010 and was called the Yakezie Challenge Carnival. This was the first opportunity to highlight articles from the newly formed Yakezie network. At this time, there were 44 members of the group. Today, I am proud to say we have grown to 90 members and have dozens of new challengers participating. We have more than doubled our growth since we started and this is something we are all very proud of. Today, instead of cheering for Octoberfest, lets cheer to our success as bloggers, as a network, and as individuals.
Now without further adieu, I present you with the dozens of great reads written by Yakezie members and challengers alike this past week in our efforts to bring you timely insight on personal finance and lifestyle today. There were 50 submissions this week.
My Journey to Millions: Is It Possible People Are This Clueless about Their Cash Flow? How is it possible that a couple making $200K don't know where $60K is going every year?
Invest it Wisely: Steve Jobs: Entrepreneur and Capitalist Extraordinaire On Wednesday, the world lost a great entrepreneur and capitalist, a man whose creativity and genius sparked an entire industry and changed the face of computing and communication forever. That man was Steve Jobs.
Money Cone: 9 Impulse Buys that Turned Out Better than Expected We've all bought stuff based on commercials that turned out nothing like how it was advertised. (Shamwow guy, you listening?) Sometimes we buy stuff on a whim, only to be disappointed later. I know I have. But not all my impulse buys have been duds. Here are some purchases that turned out to be better than expected! In no particular order…
Live Real, Now: Make Extra Money, Part 6: Setting Up a Site In this installment of the Make Extra Money series, LRN is going to show you how to set up a WordPress site.   You will learn exactly what settings, plugins, and themes he uses.
Don't Quit Your Day Job: Refinance Your Mortgage and Pay the Same Amount? Yeah, There's a Calculator for That Refinancing your mortgage to a lower rate and paying the same amount is an interesting sound-byte from Personal Finance Bloggers – but has anyone really run the numbers?  The return on this strategy is relatively paltry, as this calculator shows!  Better to refinance and sink those funds into the treasury market!
The College Investor: Best Defensive Stock Sectors The best stock sectors for playing defense in a rough market.
Tax Rebate Blog: How Much Can you Earn Before Paying Tax in 2011 Tax allowances and brackets change each year. This post shows highlights how much you can earn before you need to pay tax.
20's Finances: Hiring a Property Manager: What it Offers You Real Estate Investments can be time consuming. Learn about how to minimize the time involved while also making sure your investment is secure.
Good Financial Cents: What to Watch For With Debt Settlement Companies Considering using a debt settlement company?  Here's some tips to be wary of when trying to consolidate your debt.
Personal Finance Whiz: What Is An Emergency Fund? Why Do You Need One and How Does it Work? One of the major components of being financially fit is to have an emergency fund. Here are the ins and outs of the whole process – why you need one, how much you should have, how to save for it, where to keep it and what do to (and what not to do) with it.
Sustainable Life Blog: September Monthly Review His review of finances in September.  Do you review your finances monthly?
Your Finances Simplified: Tips on How you Can Improve Your Credit Score Piecing together clues from myfico.com and a lot of other resources, listed here are the top tips available for improving your credit score today.
Squirrelers: 7 Ways to Safeguard Your Children's Financial Future If you're a parent (or hope to be one someday), you're not only responsible for your own finances, but for providing for the basic needs of your children. If you want to help your kids get off to the best start in life, it's vital to consider them when you make financial decisions. This list provides an overview of steps that can be taken.
Stock Market Basics: How Does 401k work Understanding 401k is a must to help you save money for retirement purposes plus it also helps you save taxes and get more cash in your hands.
Investorz Blog: Investor Sentiment in a Bear Market Learn what each of these market stages are, and how investors are feeling during each of these market stages. Through understanding psychology, one can predict how other investors will react to certain market events .
You Have More Than You Think: Beyond the Checkout Counter: The Cost of Ownership A few tips on why you should consider the cost of owning particular items whether they're large or small. Most people only think about cost of ownership when it comes to buying a car.
Our Journey To Zero: Get To Know Old People and Save Money Great deals can be found in the most surprising of places, like from old people and funeral homes.
Money Q&A: Young Investors Hold Too Much Cash In Their Portfolios A recent survey found that young investors are staying away from the stock market and holding large cash positions. In fact far too many young investors are increasing their cash positions to huge levels relative to other investments in their portfolio.
Money Beagle: Don't Take Delight In Other's Misery Though the stock market has been upticking the last few days, the downtime brought a few naysayers who seemed to take just a wee bit too much pleasure in being right.
Money Reasons: Why I Got An American Express Blue Cash Card  MR loves reward credit cards.  He always pays his balance each and every month, and if you are like him too, then the American Express Blue Cash Card is for you!  Read his take on this great rewards card.  If you don't pay off your balance each month, then don't look at this card!
Krantcents: Personal Best A coach or mentor can help you achieve your personal best.
Living in Financial Excellence: Why Budgets Fail and How to Create a Successful Budget Many people attempt to do a budget and fail miserably. There are so many different ideas out there about how to do a budget and very little guidance on how to make them work in your life.
Family Money Values: Who Manages Your Money? One of the effects of the successful accumulation of money is that it takes more time and effort to track and manage your finances – read about some of the complexities in this post.
Free Money Wisdom: The Trouble with Tithing Giving can be done in ways that don't involve the transfer of money. In fact in biblical times people often had no money at all! We can give of our time and talents, and that can be even more sacrificial than writing a monthly check to the church
Bucksome Boomer: My Favorite Moments at #Fincon11 The recent inaugural Financial Blogger conference had lots of content but there were lots of great moments.  Bucksome shares ten of her favorites in this article.
Financial Success for Young Adults: What the HECK Happened to My Stock?  She checked her brokerage account and half of it was gone! Read on to find out what happened and why she didn't mind.
Afford Anything: Why I Quit My Job – And Why I Almost Didn't A reader emailed herand said: "What I'd truly like to do is figure out how to work for myself – or create passive income so I can work on my own projects without worrying about the bills." Here's her reply.
Beating Broke: The Value of Professional Conferences Professional conferences can be exhausting. But the value they provide far exceeds the cost, both monetarily and physically.
Darwin's Money: Better Off Unemployed Than Working Amazingly, even high paid workers can be better off unemployed than working due to certain common circumstances. Here is a real life example.
Financially Consumed: Kickstart Your Own Business Today The three biggest barriers between you and launching your own business are money, confidence, and time. Getting past these hurdles is not as overwhelming as you think and there are steps you can take today to move closer towards self-employment and business ownership.
Smart on Money: Why I Am Not a Big Penny Pincher As long as you have a general plan for the future, and you're taking care of what needs to happen, there is no reason to pinch pennies if you don't have to.
Investor Junkie: Steve Jobs Creating Jobs The protestors on Wall Street are lumping individuals like Steve Jobs in with the legitimately corrupt, but that is just a small minority of 1%ers. Steve Jobs created more jobs and wealth than anyone could have imagined from his adopted childhood. The angry mob is targeting the wrong street.
Budgeting in the Fun Stuff: Financing Food and Fun for $20 So there her and her boyfriend are in the supermarket with approximately $20 in hand. They knew they needed food but it was mug night! So what did they do? They stood in the middle of the supermarket and did some creative, on-the-spot budgeting.
Saving Mentor: 4 Ways to Kick Your Mortgage in the Butt and Pay It Off Faster One of their customers once emailed them and asked …"Kelvin – it's not just about GETTING a mortgage is it? It's all about what happens after that. How do I pay it off faster? What's the trick?" He couldn't but think – she is SO right.
Beating The Index: Aroway Energy: A Rising Junior Oil Company in Alberta's Hot Peace River Arch Area Find out why this rising junior oil producer in the hot Peace River Arch area of NW Alberta is worth taking a look at.
Sustainable Personal Finance: Put Your Money Where Your Values Are: Green Investing While you do want to support sustainable businesses, it's important that you don't just throw money at anything "green."
Totally Money: Top office pet peeves An amusing look at what gets them annoyed at the office.
Outlaw Finance: Betterment Review: Incredibly Simple Investing How Betterment works, what it costs, and other thoughts.
Deliver Away Debt: What Is Quantitative Easing and Why Won't It Stop? Discusses quantitative easing, what it is, and what it can mean to you.
PT Money Personal Finance: What Everybody Ought to Know about New Debit Card Fees What's behind the fee and what you can do about it.
Novel Investor: Do You Know Who Your Beneficiary Is? Keeping your retirement account (and other documents) beneficiary designations up-to-date with an annual beneficiary review checklist.
The Happy Homeowner: Discount Travel Tips that Actually Save You Money These are 6 of their tried-and-true suggestions for how to maximize your vacation dollar.
Fat Guy, Skinny Wallet: That Pizza Was Tempting, But We'd Rather Pay Off Debt His wife and him were tempted to be undisciplined and order pizza for dinner the other day. Instead of giving in, they used it as an opportunity to pay down debt!
KNS Financial: Reflections On The Financial Blogger Conference – How To Take Your Blog To The Next Level…Over 3,000 EPIC Words! The Financial Blogger Conference was held in Chicago recently. Here are over 3,000 words about what he learned about creating a better blog, & gaining readers' trust!
Free From Broke: How to Fix an Error on Your Credit Report  See how to fix an error on your credit report. Why? Because a credit report error can potentially cost you thousands on a loan and even cause you to be rejected.
My Personal Finance Journey: What are the Best and Worst Jobs in the World? The selection of the best and worst jobs in the world varies greatly person to person.  This post describes some of the various characteristics that one could look for in determining the quality of the position.
Dollar Versity: Create Goodwill And A Positive Image By Helping Others Forget what some "experts" say, businesses don't need to charge wherever they can.  Sometimes it works to its advantage to give products or services away.
Smart Family Finance: Money Making Activities for the Whole Family Parents have a large influence in their child's financial development. Teach your child about making money through money making activities for the whole family.
My University Money: Would You Rather Be "Book Smart" or "Handy"? He might be book smart…but their street smart. Thats better, isn't it?
This concludes this week's Yakezie carnival. I hope you have enjoyed the numerous articles above and will join us next week for our next edition of tips and tricks for your life and for your money.